Tired of unchanging brunette hair? Worried about hair dye damage your hair? Have you experienced hair loss recently? Want to welcome this spring with a new look? If the answer is "yes", then Alipearl strongly recommends that you try a highlights wig! With highlights wigs, all the problems will be solved, everyone can get a fashionable hairstyle without damaging her hair!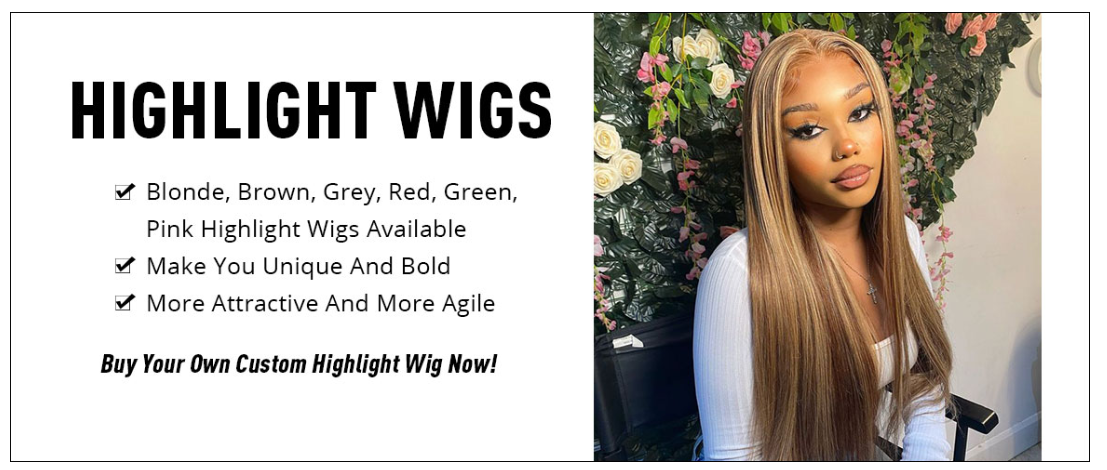 What is a highlights wig?
Highlight wig is made of 100% human hair, and adds lighter and brighter highlights to the natural gloss, brown, to form a mixed highlight color, making the dark coloring look more vibrant and fashionable.
Adding highlights in lighter shades like light brown or blonde will accentuate the hair's vividness, accentuate the style, create depth, and provide the illusion of fullness, compared to a monochrome wig with just one color. Tired of just having one color, highlight hair will be a great option.
Are there any unique colors to choose from?
1) #Piano (p4/27) : Brown base color with honey blonde highlights
Brown hair with blonde highlights can add a warm feeling to your face and personality.
The optional length of 16-30 inches can meet the needs of any hairstyle, and the lace size of the wig is also optional, 13*4 lace front, 5*5 lace closure, and 13*5*1 lace part wig (Pre-plucked, Slight Bleached Knots, Clueless)
Don't want to get a lace wig? Alipearl also has a #piano headband wig with free headbands, it is also a good choice!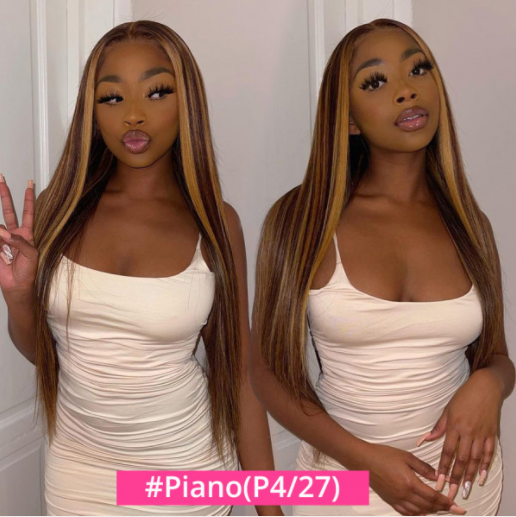 2) Grey Highlights On Black Wigs
A bold experiment with a few gray highlights on top of the black hair, the black and white hair adds mystery and elegance. 13*4 lace size provides a natural hairline and the deep part looks real and easy to manage.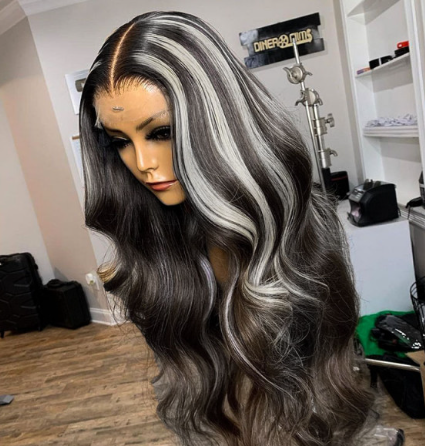 3) Blonde Skunk Stripe Hair: Natural Black with Blonde Section in the Front
Unlike the piano-colored highlights, the hair only has a single highlight on the forehead. The back of the hair looks more like a natural wig, but the front reveals a unique and bold hairstyle. 5*5 and 13*4 wig type, 14-24 inches length, straight and body wave options, and adjustable straps aid effortless installation.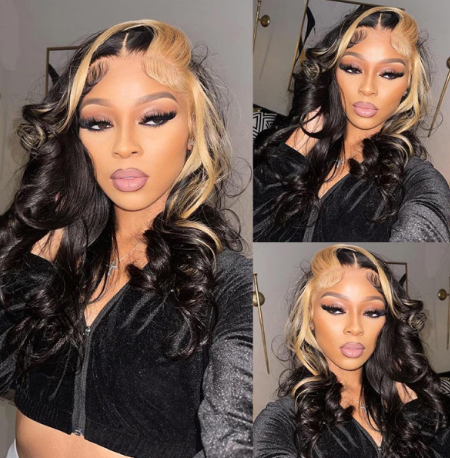 There are only two strands of green hair on the forehead so that the whole wig will not become too exaggerated, small amount of green hair looks lively and lovely in the black hair. From 14 to 26 inches, 180%-250% density, satisfy your yearning for long and thick hair!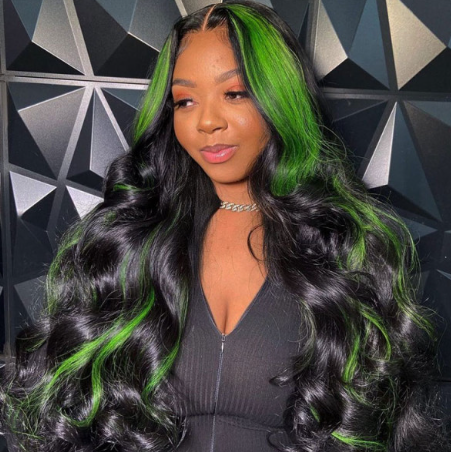 If the above colors can't meet your needs, then Alipearl also has pink, wine red, and blonde, there is always the one you like.
If you do not find your favorite, please leave the texture you want, and we have professional hairstylists who can customize it for you.
Of course, if you already have your favorite color, don't forget to pick up a coupon before placing an order.
Now Alipearl Flash Sale is coming, which is the biggest dicount ever, please don't miss it, choose the best gift for your Mom with love:
Order Over $200, Get Extra $30 OFF, Code:PP30
Order Over $300, Get Extra $40 OFF, Code:PP40
Order Over $400, Get Extra $50 OFF, Code:PP50