Synthetic wigs are more affordable than human hair wigs, and although the quality is somewhat different from human hair wigs, they are an affordable option for frequent styling changes. So in this blog, we'd like to recommend synthetic lace front wig as a more affordable way to create your look. Knowing how to care for a synthetic lace front wig is essential. When you know how to care for a synthetic lace front wig , it will maximize its benefits and make it last longer. Here are the products and tools you need to care for your synthetic lace front wig , as well as some tips on how to maximize the longevity of lace front wig.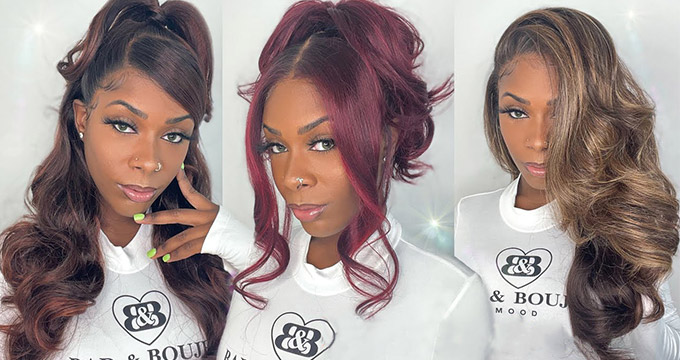 Length of use of synthetic lace front wigs
Synthetic lace front wigs are the same as any other wig, although they are made of different materials and require careful care. The use deadline of wig often and your use frequency, nurse circumstance and store means are closely related. Therefore, please use multiple wigs alternately to reduce the burden of the lace wig before synthesis, and pay attention to the care and storage after each use, which will prolong the life of your synthetic lace front wigs .
How to care for a synthetic lace front wigs
How to wash
For how to care for your hair, start by washing your hair. What needs attention here is, in the process of cleaning hair, need to use temperature appropriate warm water and reasonable shampoo product. The following steps are clear and complete:
1.Before cleaning, connect a basin of water first, the height of water should cover wig surface completely, water temperature should not be higher than 30℃ as far as possible, water temperature is too high can cause hair damage or even deformation, water temperature is too low is not conducive to nutrition secretion and cleaning. Therefore, the water temperature should not be too high or too low.
2. Pour quality conditioner directly into the water and stir well. The hair conditioner poured directly on the wig is not conducive to fully covering and absorbing the nutrition of the hair conditioner. The direct immersion in the water with the hair conditioner makes the lace front wig more evenly stained with the hair conditioner, so that the hair conditioner can play a more full role. In addition, fabric softener is very helpful to rejuvenate lace wigs before they are made. You can soak the fabric softener in warm water for about 30 minutes.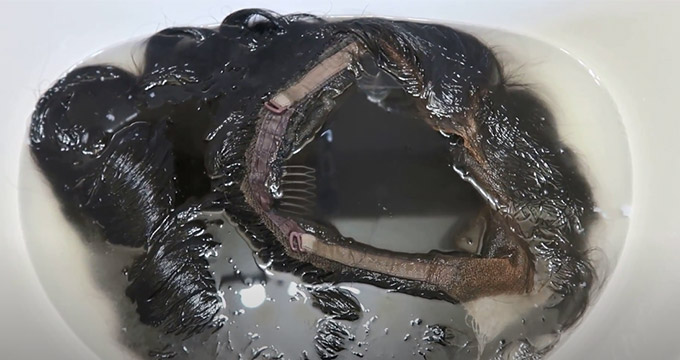 3. Avoid rubbing hard on a pre-synthetic lace wig, which can damage the texture. Wig cleaning is usually done to remove sweat and dust from the air when we wear wigs, so it's not very dirty, but it needs to be rinsed in a basin.
4. After you've washed your lace front wig, gently wrap it with a dry towel and gently blot it dry. Again, don't rub it. Place your hair in a wig rack and comb it to avoid tangles. If possible, leave it in air vents to dry naturally. This will do less damage to the wig. If you are in a hurry to use it, you can also wait for the wig to dry a little, with a hair dryer, pay attention to keep a certain distance from the wig, about 10cm is enough, to avoid heat damage.
At the same time, avoid frequent shampooing and wash your lace front wig once every two weeks or once a month , depending on how many times you wear it. In order to prolong its life, we do not recommend using it very frequently.
How to maintain
Nursing and maintenance of the use period of wigs cause a direct impact. Our natural hair can become frizzy or dry after washing, not to mention synthetic lace front wig , so moisturizing should be a priority during the washing process. Using a water-soluble conditioner during your wash is great for moisturizing your wig. If you have more time and energy, a hair mask is also a great tool to provide more nutrients to your hair and make your wig softer and more vibrant. Also, essential oils are a great hydrating tool, and they will make your hair smoother and smoother after cleaning your wig .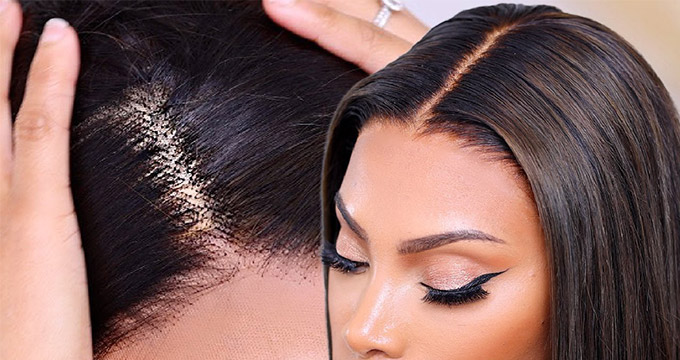 Another thing you should be aware of is:
1.To reduce breakage of lace wigs before synthesis, make sure they are free of knots before cleaning .
2. Avoid direct sunlight or high temperatures while drying your hair .
3. Avoid spraying pre-synthetic lace wigs with hairspray. Hairspray contains alcohol and frequent use can dry out synthetic wigs. If needed, make sure you use hairspray without any added propellants such as aerosol sprays .
4. Avoid regular home straighteners , which can melt glue in fixtures and cause irreparable damage.
5. Olive oil is not recommended . Despite its oily consistency and popularity as a moisturizer on skin, olive oil does not do well in the long-term when applied to synthetic wigs or any other type of lace front wig . Although olive oil is oily and popular as a skin moisturizer, it doesn't work well for long when used to make wigs or any other type of lace front wigs.
Finally, although synthetic wigs allow you to style your hair at the lowest possible cost, the quality can be defective compared to human hair wigs. If you can afford it, we suggest you opt for a human hair wig, which will last longer and save you the cost of replacing your wig. Alipearl will offer you a quality and guaranteed human hair wig.