What are glueless wigs?
Glueless wigs are kinds of human lace wigs which can install on the head without using tape or glue adhesive. Usually these wigs will come with combs, bands, or clips already installed inside to stay wigs attached.
Advantages of glueless wig
1. Convenience
For beauty and fashion purposes, some girls don't pursue a long-time wearing, only need to wear a wig during daytime. Thus, removing glueless closure wigs easily at night without damaging your natural hair will be the first factor for customers to consider. No tape or glueless wigs make this possible.
2. Safety
Glueless wigs are great for people with sensitive scalps. It does not cause allergic reactions. Due to these wigs are adjustable and can be removed on a whim, which offers the wearer an opportunity to keep their scalp well moisturized and health. Such a choose is not available if you install wigs that require adhesive.
3. Sustainability
Based on glueless lace wigs are removable this feature, it is easy and pocket-friendly to maintain and care for. Thus they have a longer use time than glue-based human lace wigs. With proper care, your glueless wigs can last from 6-12 months, or even longer if you wear them less frequently and meticulous care.
Glueless wig in Alipearlhair
Glueless wigs have so many advantages, some hot-selling glueless wigs in Alipearl hair are worth your attention.
1. Wear & Go 5x5 Lace Closure Wig
The 5x5 lace closure wear & go wig is made of high-quality and durable Swiss lace, 100% great human hair, and a clear and breathable wig cap. The lace part is 5 inches deep and 5 inches wide, embedded in the middle of the head, the lace is pre-cut.
The lace part of 5x5 human hair lace wig is not as wide as a lace frontal wig. Because the area of lace is less, it's not only more convenient and easier to install. People don't even need to use glue, just a comb, and an adjustable strap can fit the lace closure in place perfectly. But also they are more affordable compared to other lace wigs.
Straight, body wave, deep wave, and curly 5x5 lace wigs are all hot selling in Alipearl hair!
2. Headband Wig
The headband wig is friendly to wig beginners, it is the easiest to apply and the most convenient wig option. There is no glue without lace. You can throw it on your head and do it in seconds, it's super quick and easy, and it also protects your scalp and hair well. It is a good choice for busy days, heavy studies, and intense work. In addition, a variety of hair band types are also available for you to choose from.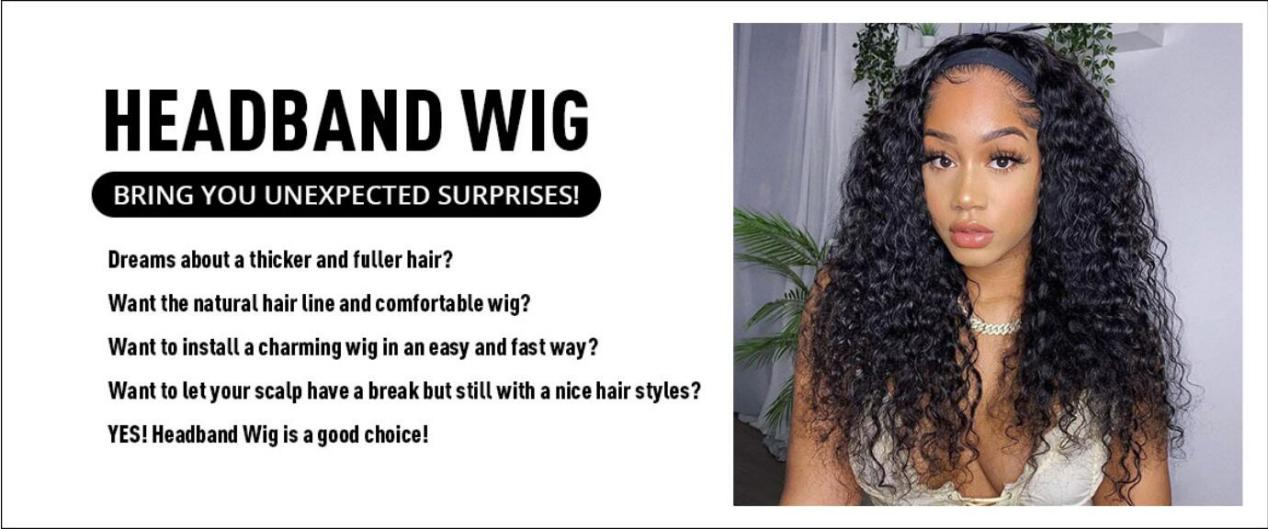 3. Machine Made Bob Wig
The machine-made Bob wig has adjustable straps to fit all heads, and the comb keeps the wig cap in place nicely. Glueless wig cap, short size, so you can wear it or take it off freely to easily unlock a new look. A machine-made bob wig without lace, so it is the most durable and affordable. The wig cap features ultra-thin mesh on the front and traditional construction on the back for breathability.
Alipearl hair now has machine-made bob wig on sale, each one under $130. Don't miss it!
And limited time flash sale in Alipearl hair store is under way, only 3 days! Buy now!
Extra $30 OFF Over $199, Code: SALE30
Extra $50 OFF Over $299, Code: SALE50
Extra $70 OFF Over $399, Code: SALE70