Halloween is a holiday that young people love, because everyone can play unscrupulously on this day. This festival is also a time to show our best costumes and hairstyles, so do you think about what you want to dress up as? If you don't have any ideas yet, we will introduce you some Halloween hairstyles next. You can find inspiration from this hairstyle - Brown Balayage Hair and easily Hold the audience!
What Is Brown Balayage Hair?
Brown balayage is a dyeing technique that can create natural-looking hair color on brown hair. It combines blonde, light brown, chocolate color, and other color shades, which are all hand-painted, creating a subtle style on the entire Hair Wig. Brown Balayage Hair Wig starts from the top of the head and renders vertically downwards in a V-shape. When dyed in this way, there will be no obvious traces of color transition, but a blend of depths and shallows. With the change of angle and light, it will appear sparkling colors like ocean waves when it is moved. Compared with pure Colored Hair dyeing, the biggest advantage of Balayage is three-dimensional, It is a famous highlighting technique, it creates a surprisingly low-maintenance natural look.
Brown Balayage Hair Recommended
1. #4/27 Brown Balayage Hair Bundles With A Closure
#4/27 Brown Balayage Hair is now a very popular and hot selling hair product, #4/27 color is a combination of Dark Brown #4 and Honey Blonde #27, It is a classic and timeless color, this color of hair is suitable for any age and occasion. #4/27 Brown Balayage Hair Body Wave is Honey Blonde #27 Color Balayage On Dark Brown #4 Color, the body wave hair matches perfectly with the Honey Blonde and Dark Brown. If you want to change to a new look in Halloween , #4/27 Brown Balayage Body Wave hair bundles with a 5x5 lace closure will be a good choice, the hair bundles and closure are made of 100% human hair, no chemical, no tangle, no shedding, soft, full, bouncy and comfortable, you can sew in a Closure Wig by yourself, It will make you more charming, attract everyone's eyes, bring you unexpected surprises, and make you feel that buying this hair is very worthwhile. Shop the hair deals now with a big discount, you can also enjoy free fast & safe shipping and get some random gifts. Do not hesitate, Catch On The New Trends!
2. Blonde Balayage On Brown Hair Wig
Brown and blonde balayage hair is the most common and popular Colored Wig hairstyle in recent years, and you will find that many celebrities or hipsters are also wearing this hairstyle. This hairstyle is very layered, and different light and angles will have different visual effects. In fact, this kind of hair dyeing is not achievable with one color. It cleverly combines two colors of blonde and brown. The background color is brown, but the highlight part hair color will be lighter, so we used blonde color. If you try this hairstyle, the guaranteed effect will surprise you. It will make everyone feel that you are low-key and stylish, but at the same time it won't feel very common. Now we recommend this Top selling hair wig- #P4/27 Highlight Straight Human Hair Wigs, it is Color #27 Honey blonde balayage on Color #4 Dark brown hair Wig, this wig looks very natural and unique, will bring you more charm. We provide two wig type - 5x5 lace closure wig and 13x4 lace frontal wig, and there are different hair length and density for your choose. If you want Invisible, seamless and undetectable lace, you can choose to buy the wig in HD lace, which can melt to all skin tone well. And the wig has another advantage: Beginner-Friendly, it is Pre-plucked natural hairline with enough baby hair, inside with three combs at two sides and back, two adjustable straps at back, If you are a tiro, don't worry, you will wear it easily. Girls, you must buy this wig, it will make you easily stand out from sisters and show your beauty!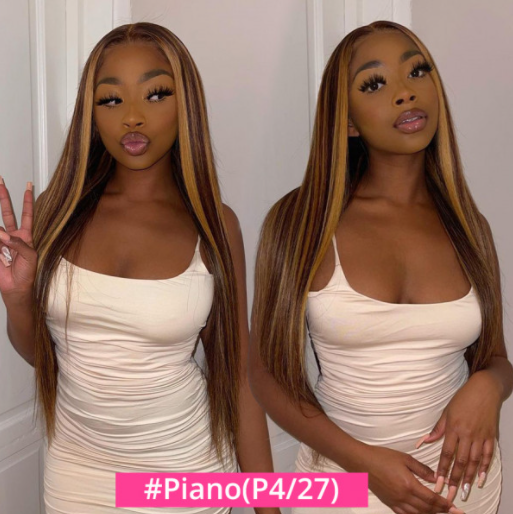 Where to Buy These Wigs?
The above two wigs, no matter which one you choose, you will be very dazzling on Halloween. Now Alipearl Halloween Sale has started, here are many big discounts you can enjoy:
All Site-Wide, Get Extra 5% Off - Code: ALIPEARL
Over $159, Get Extra $8 Off - Code: HW8
Over $259, Get Extra $16 Off - Code: HW16
Over $359, Get Extra $24 Off - Code: HW24
Shop New Arrival Wigs, Get Extra 8% Off - Code:NEWIN
Now all discounts are -limited- time, don't hesitate, Pick Your Broom, Shop These Wig Deals, you can enjoy free shipping and get some free small gifts.