There are many factors that should be considered when you are looking for a wig that is best for you. Except from, style and length. Density is also what you should consider. If you don't know how to choose the best density for you, then congratulations on finding the best blog for you. Please read it till end, then many of your doubts will be solved.
WHAT IS WIG DENSITY?
If you want to choose the best wig density for yourself, then you have to understand what wig density is. The wig density is expressed as a percentage, and it tells you how much hair is actually on the wig, but doesn't involve texture. The higher the density percentage, the fuller it looks; the lower the density percentage, the thinner it looks. Density percentages range from ultralight (about 60%) to overweight (about 180%). The most commonly used density is around 120%, which is considered medium to thick, and more closely match the average density of a human head. Many units are pre-plucked, which means they are less dense around the hairline and gradually become denser, making the units look more natural. The density is not the same as the actual thickness of each hair. Your hair may be thick and still have low density and vice versa. Just like human hair has different hair densities, wigs are also characterized by hair density. The standard hair density for wigs is 120%, called natural/medium density. This is almost equal to the average hair density of the human head, which varies between 100-120%. It has a natural look and is comfortable on your head.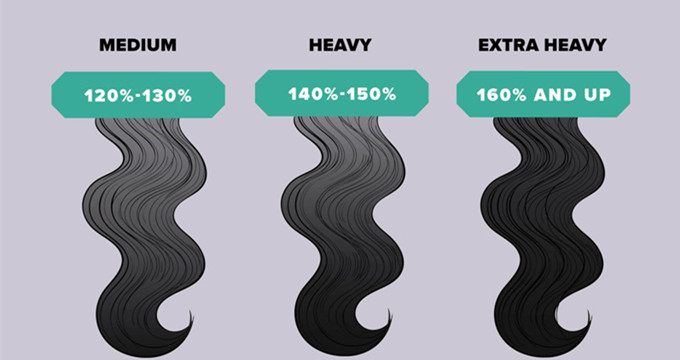 WHY WIG DENSITY MATTER?
We do not recommend that you only consider style then then color and ignore density when buying a wig. Because getting a wig of the right density also ensures that you can have a perfectly natural looking hairstyle. Most companies produce wigs in different densities, which can offer the wearer a different look. Generally speaking, the best way to get the right density is to buy a wig with a hair density that matches your natural hair density. Otherwise, people can easily spot you wearing a wig. A matching wig density will also ensure that you don't experience head discomfort or damage your scalp.
There are three main reasons why you need consider hair density before buying a wig:
1.Styling options: Different density wigs have different features. Alipearl experts recommend that the hairstyle of deep wave, you can choose a wig with a density of 200, because this density looks more textured. For the hairstyle of Body wave, we recommend that you can choose a wig with a density of 250, which can better reflect the advantages of this hairstyle.
2.Hair care: When you buy 100% Natural Human Hair, the wigs are expensive and need to be cared for. When caring for wigs, you can use hair care products such as Hawaiian Silky 14 In 1 Miracles Apple Cider vinegar Hair Shampoo, Cantu Leave-In Conditioner and Jamaican Black Castor oil. If you want to know the detailed hair care method, please pay attention to our blog content, we will explain in detail next.
3.Price: Higher density wigs are more expensive than low-density wigs. Getting to know the different hair densities will ensure you find the right balance between a budget and quality. Knowing the features of wigs with different densities can help you make the right purchase decision.
HOW TO CHOOSE YOUR BEST WIG DENSITY?
After you have learned about the different densities, we will offer several tips below to help you choose the right wig density.
1.Hairstyle: Short or long, curly or straight, up-do or down? Depending on which style you're after, you may want more or less density. Typically, higher density is better for straight style, whereas a curly unit can be less dense and still look full. You also need to consider whether to treat your hair with a heated tool, as this can affect the density you choose.
2.Natural Hair Density: The next step is to check your natural hair density. It becomes all the more important when you are going to use the wig to blend it with your hair. Additionally, if you want to have a realistic look with the wig , it is necessary for you to get wig density that matches that of your hair.
3.Lifestyle: If you want to keep the hairstyle in tune with your own look , you are more superior to consider carefully when choosing a density that matches your events. Partying with friends? Then go for a higher density for a full look.Gym as home? A lower density wig will be easier to pull back into the ponytail for a workout.
4.Age: Even the elderly can try 150% density hair to look younger and regain their youth. If you want a natural look with a wig, we don't recommend buying a denser wig, it won't help you get a more natural look. Instead, opting for a lighter density wig can help you look more natural A wig that looks age-appropriate will be a better choice for you.
Where to buy?
As a professional human hair supplier , Alipearl hair offers different hair density: 150% density, 180% density, 200% density, 250 density. If the text is not intuitive, here attach a picture below for reference. Through the picture, girls may have a clear understanding of the different lace wig densities. In order to make it easier to choose a suitable wig, the following will introduce the characteristics of each wig density, and just follow these steps.
150% density: It is the lightest density compared with other wig densities, it features lightly when wear it, best for those whose hair is thin and natural.
180% density: It is a common choice for most people, because it is an average standard density of wigs , when you wear it, it is neither too thick nor too thin, can really and naturally show the hairstyle.
200% density: It is also a popular option for people who prefers a more full and voluminous look, it is natural but not overwhelming.
250% density: It is the highest-density hair. Designed for those who pursues full volume hair. If you want to have a celebrity-like or use it for a special occasion, it is the best choice.