What's A Wig Density?
Choosing the most suitable wig costs lots of time, if planning to wear a high-quality unit, one of the key points that girls need to consider is the wig density.
When talking about wig density, it usually measures how much hair is actually on your wig. Generally speaking, it is just the amount of hair that used on each wig. The more hair on the wig, the thicker the wig will be.
Difference Wig Densities
As a professional human hair supplier. Alipearl hair offers different hair density: 150% density, 180% density, 200% density, 250 density. If the text is not intuitive, here attach a picture below for reference.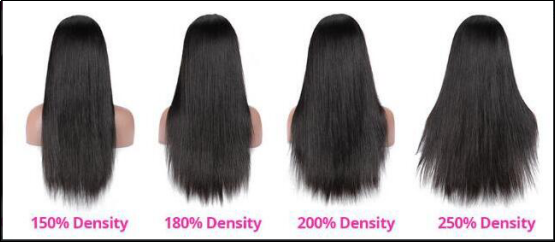 Through the picture, girls may have a clear understanding of the different lace wig densities. In order to make it easier to choose a suitable wig, the following will introduce the characteristics of each wig density, and just follow the step.
150% density: It is the lightest density compared with other wig densities, it features lightly when wearing it, best for those whose hair is thin and natural.
180% density: It is a common choice for most people, cause it is an average standard density of wig, when wearing it, it is neither too thick nor too thin, can really and naturally show the hairstyle.
200% density: It is also a popular option for people who prefers a more full and voluminous look, it is natural but not overwhelming.
250% density: It is the highest-density hair. Designed for those who pursues full volume hair. If want to have a celebrity-like or use it for a special occasion, it is the best choice.
How To Chose A Suitable Wig Density
When it comes to the best density, it is not simply that one is better than the other one. Girls should also consider the wig length, texture, density of your hair, and the wig's look that girls want to achieve, which are all factors to be considered.
Based on the experience, here are some tips that everyone should keep in mind when choosing a suitable wig density.
The very first thing that girls should check is the hair density of her own. The choice according to hair condition can make the wig blend with the hair well and more natural. To make this realistic look a reality, it is of necessity to get the hair density that matches that of owns.
The wig look you want to achieve is also important.
But the basic principles are:
Deep Curly human hair wigs will look fuller than straight human hair wigs, so if girls prefer a deep curly one, no need to take a higher density.
Longer-length human hair wigs need a high density to make them natural and realistic, compared with short-length human hair wigs or bob wigs, if girls are looking for a long wig, choosing 200 % density and above will not make mistakes.
Color wigs require thick hair volume to make them as full as natural color wigs of the same length and texture.
A good Density Of The Wig In Alipearl Hair
Reading this blog will help everyone understand what is the density of the wig well.
So what kind of texture and density do girls want to choose? Alipearl hair provides a large number of human hair wigs for for every beautiful girl to pick the suitable wig, attach the latest coupon, come and Show unique beauty!
11.11 CRAZY SALE
LOWEST PRICE OF THE YEAR
Over $159, Extra $8 Off - Code: PP8
Over $259, Extra $18 Off - Code: PP18
Over $359, Extra $28 Off - Code: PP28
Site-Wide, Extra 5% Off - CODE: ALIPEARL
Items ≧2, Extra 10% Off - CODE: SALE10
Free Order For 1,11,111...
Pick 20 Lucky Girls Send Free Wig
Win 50 Cash Back For 5 Lucky Girls